How to be resilient to stress


by Elia Strange


From my other articles such as Stress and Health and Stress and Illness you might know by now that stress is very damaging to our health.

But the truth is – nobody can avoid stress. Stress is an inevitable part of life.


Even if you are filthy rich and don't have to work for living, you might have worries about your money in the bank, uncertainties about what to do with your free time, insecurities about your personal relationships, and so on.



---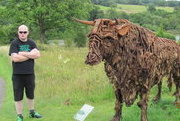 So how to be resilient to stress?

What can you do to strengthen your anti-stress barriers?



Here a few practical suggestions that you can follow:


---
---

1) Plan your day. Get up and go to bed at the same time.

Leave your house for work at the same time if that's possible. Have breakfast, lunch and dinner at similar times.

The reason for that is – if your body 'knows' what time it supposed to eat and sleep, your whole nervous system will be more stable and therefore, more resilient to stressors.



2) Be physically active. If you stress your body with exercise on a daily basis, it becomes more resilient to other stressors, including the big ones. This happens on a more subtle, subconscious level. You might be surprise what your body (and mind!) can endure if you regularly train it.

Ideally, exercise for 30-40 min each day, and vary the intensity of the training: some days you might walk for a couple of miles, other days go for swimming, gym, aerobic classes, etc.



3) Magnesium is a mineral that most people lack, but which is needed for our bodies, especially in times of stress.
Have more beans and grains in your diet, eat nuts and watermelons, and if need be – take a supplement.



4) Sleep for at least 6 hours, and try to get to bed well before midnight. Ideally, your sleep would be undisturbed and continuous throughout the night. If you have problems with sleep, read my article on 'How to get a good night sleep'.


---
---

Other articles you might like:



What is Mental Burnout and Breakdown


Stress and Illness


How to reduce stress instantly


What to do when you are stressed


How to be happy in this unhappy world


How to get a good night sleep


How optimistic are you (Fun Quiz)




---
---
---
---


Sign up below to receive my free email newsletter with new fresh articles to help you to become healthier and happier.
It's sent about once a month. No spam. No sharing of your email address. Easily unsubscribe at any time.