Exercise Tips: 8 Easy Exercising Ideas for losing weight and becoming fitter

Starting exercise might be a challenge for anyone.


What should you do if you didn't exercise for a while, but now you realise that you need to get off your couch?



by Elia Strange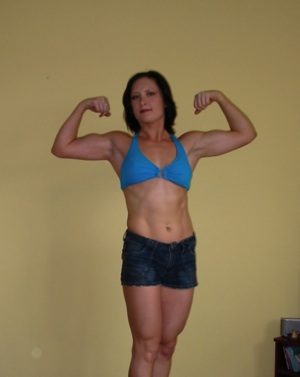 Well, let me share with you some tips and tricks that I use when I need to get back to exercising.
I've been exercising from my childhood. At the tender age of 6 my parents enrolled me to gymnastic classes. Then I tried belly dance classes. Then sport gymnastics, acrobatics, and then more dance classes.

When I grew up I continued with my exercising. To be honest it wasn't so much for the health benefits, but just to lose weight when I felt I needed to.
It's not like I never had a break from the exercise. Sometimes I become lazy like most people and I don't exercise for weeks or even months. But when I feel I'm getting 'larger' than I want to, then I get off my couch and do something about it! Usually, I would buy a new aerobic DVD and do the exercise at home.

Sometimes, when I feel my motivation has disappeared completely, I would push myself further by going and enrolling myself to the local gym or some classes. There, my motivation would pick up when I'd see exercising people on the treadmills and doing weights, and the new fancy equipment that would be interesting to try out.
My motivation to exercise would get even higher if I get an offer of a free training programme by the gym trainer developed just for my needs and goals.
Then, of course, some time would pass and once again I find myself glued to the couch, gaining pounds, and wishing to get back my motivation for exercise.

Sounds familiar? So what did I do to get my motivation back? Well, over the years I've developed some useful tips and tricks to get myself back on track.
 
And I would like to share them with you.


---
---
Exercising Tips and Ideas:

1) First of all, don't make big goals.
Start with something nice, small and gentle.
Start thinking about your next holiday or some exciting event that you are looking forward to.

How would you like to look? Slimmer? Fitter? Sexier?
That would be your first step to gaining motivation for exercising.


2) When you find yourself home alone (or if you are a confident person, then do it when others are at home too), put some nice upbeat music.
Choose the music that will remind you of that time when you used to dancing (or still dance).

For somebody this will be club music, for others this might be a music from the 70s, 80s, or 90s.

Whatever it is, the music has to make you want to stand up and dance!
Now get up from the couch and dance. Wave your arms around and swing your hips. Dance until you start smiling!

Then, add some exercise movements to your dance routine. This could be adding 2-3 light squats, then more dance, then bend and stretch your arms to the floor a few times, then more dance. See how easy it is to burn calories sometimes?



3) Remember that housework is a form of exercise too.
Whether you are hovering or cleaning the floor, ironing clothes, or making your bathroom shelves nice and sparkling, you are making your body to gently stretch and exercise.



4) Some people hate even the idea of going to the gym, but for some this might be very motivational. Especially if you can find a new funky gym near your place of work or home.

 When you'll get yourself to the gym, you will see there people who exercise. This is often enough to make you want to join them. Well, there is nothing else to do in the gym apart from exercising!

The most difficult thing is to get yourself to the gym. I found that going there straight from work (for some people this would be before work) is the best strategy.
If you'll reach your home after work, the chances are - you will be glued to your couch and won't get out of the house even if somebody will pay you for this.
So, if you can, don't make the trip to the gym a separate journey.


5) Buddy up. If you find a friend willing to go to the gym or some classes with you, this can become highly motivational strategy for you.

Just remember, there is another side of the coin to this: if your buddy will lose his or her motivation and stop exercising, the chances are - so will you. Try to find a buddy who is not likely to give up exercising after a month or two.



6) Find your own inspiration. For some people this would be looking at the photos of athletes, for others - slim and fit, but ordinary looking people. Look for them on the Internet or in magazines. Find what inspires you.



7) Get your exercise into a routine. It doesn't have to be 3 to 5 times a week. If you can do a good physically challenging activity on weekend, this is fine.
 Just remember to be active during the week too.
Clean up your house, iron your clothes, cook for your family from scratch, and dance whenever you can. As long as you are not sitting on the couch, you will be burning calories.
Even standing up, you will be burning more calories than if you are sitting on the couch.


8) Finally, as one Russian proverb says, "Movement is life".
You need to move to be healthy and fit.

When I was in a hospital, 6 days after a major life-saving surgery, the physiotherapist recommended me to get up every hour and do some form of gentle exercise. Believe me, after a complex surgery, this was a challenging and a painful task. And the last thing I wanted is to get up from my butt! 
So if I could get up and exercise every hour, then so could you, a healthier individual? :)

---
---
Other articles you might like:


How to be more assertive

Why do you need to eat healthy

22 Latest findings about sugar


What to do when you are stressed

How to be happy in this "unhappy" world

Depression Test: How depressed are you?

---
---


Sign up below to receive my free email newsletter with new fresh articles to help you to become healthier and happier.
It's sent about once a month. No spam. No sharing of your email address. Easily unsubscribe at any time.