What is love

-


in the words of children
Love is used as one of the most common themes in movies, songs, poems, and so on.


Love is a common experience in our society and many people see it as a 'normal thing'. Love is an emotional reaction, just like anger, happiness, sadness and fear.


The answer from an adult to the question of 'What is love?' probably wouldn't surprise many people. But what if you asked a child that very same question?


Now that very much might be a surprise.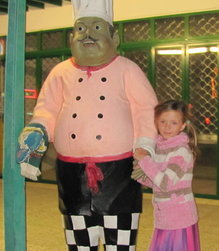 by Elia Strange


A group of children aged between the ages of 4 and 7 were asked by a researcher ' what love means to them' here are their answers:
---
---
"Love is that first feeling you feel before all the bad stuff gets in the way"



"Love is when a girl puts on perfume and a boy puts on shaving cologne and they go out and smell each other"



"Love is when you go out to eat and give somebody most of your French fries without making them give you any of theirs"



"Love is what makes you smile when you're tired"



"Love is when mommy sees daddy smelly and sweaty and still says he looks like Robert Redford"



"Love is when your puppy licks your face even after you left him alone all day"




Ahhh...
---
---
Well, if you have children of your own, then ask them this question as you could be quite surprised.

If you would like to share so that other people could see them, please send me the funny things they say (by using the contact form) and I will add them to this page! Or share them in the Facebook comments box below!

---
---
---




Or follow me on Twitter and Google+ by clicking on the symbols below:


---
---


Sign up below to receive my free email newsletter with new fresh articles to help you to become healthier and happier.
It's sent about once a month. No spam. No sharing of your email address. Easily unsubscribe at any time.