Why do we need to eat healthy?
"We are what we eat".

Well, whether it is 100 percent true or not, what we eat plays an important role in our long-term health and illness status.

Many psychologists and nutritionists researched this topic and found the following facts:

by Elia Strange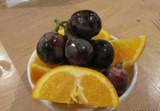 ---
---

1) Fat intake is directly linked to various forms of heart disease and weight gain;



2) Around 35 percent of cancer deaths are attributed to poor diet (e.g. high-fat foods, high levels of salt, low levels of fibre);



3) There is a possibility that most of cancer- and heart-disease related deaths can be prevented if you eat healthy, as it is researched numerous times by Dr. Michael Greger (MD). (See hundreds of his free short video tutorials on foods and the latest research in nutrition here: Nutrition Facts


And while we are on the topic of 'cancer prevention', have a look at what Dr. Joel Fuhrman (MD) says about it in this short 2-min video: Cancer Prevention



4) Vitamins, antioxidants and fibre, found in all fruits and vegetables, are simply vital to a healthy body;



5) Fruits and vegetables give a significant protection from various types of cancer and heart disease (the major 'killers' of our century);



6) Controlling weight-problem is easier and more effective when you eat a diet high in fruits and vegetables than following some fad diets such as South Beach diet, Atkins diet, Slim Fast, and so on. Some time ago I've written an article on my blog about what I do when I need to lose some weight - "How to lose weight fast";



7) There is no need for "detox" if you are following a healthy diet;



8) You levels of cholesterol, blood pressure and inflammation in the body can be well under control if you follow a healthy diet – a diet rich in fruits and vegetables;



9)You can prevent stroke and have a healthy brain if you eat a diet high in fruits and vegetables;



10) On the contrary, foods high in sugar and salt can cause many health problems (read about it in my other articles such as 22 Findings on Sugar or 13 Facts about Sugar Addiction



11) Unfortunately, TV advertising is the primary 'motivator' for eating unhealthy foods for both children and adults;



12) Coffee is a regular drink of 80 percent of global population and can be accounted for approx. 10 percent of causes of heart disease, 17-24 percent of causes of stroke, and some reproductive problems (i.e. pregnancy problems). However, it is generally allowed to have a cup of coffee a day without any major risks to your health;



13) Chocolate, cheese, meat and sugar are probably our strongest food addictions, as it is explained by Dr. Neal Barnard here: Chocolate, Cheese, Meat and Sugar addictions



14) Most of unhealthy snacking is related to our stress and/or boredom (i.e. 'emotional eating')




---
---
How to change your food preferences and start eating healthier?
1. If you stick to a 'healthy eating plan' for 3 weeks, then most of your choices will become an enjoyable habit (21 days is how long usually we require for a new habit to form).

Bear in mind, you have to try to follow it 100% of the time (for 21 days), so that your taste buds had a rest from all the salty and sugary foods that we usually eat;



2. Just being 'exposed' to certain foods can make you want to eat them (for example, looking at what your colleague is eating can make you want to eat the same food).

Bring your healthy foods and snacks and your colleagues will want that too!



3. If you mix your favourite foods with not-so-favourite (but healthy) ones, over time, you might start enjoying those not-so-favourite foods too. (For example, I add my favourite fruits, croutons, seeds, etc. to salads to make them more appealing);



4. If you want to eat more raw fruits and veggies, then you can start with adding more of them to your cooked meals (either mix them together on one plate or sprinkle those greens on the top). Then simply increase the portion of raw fruits and veggies over time;



5. Add fruits and veggies to all your meals if you can. For example, you can add chopped fruits to your breakfast cereal, eat fruit salad for dessert (or breakfast), and add veggies (raw and cooked) to all your cooked meals;



6. Generally speaking, if you can say that your meal is high in vitamins and minerals, then it will promote your health. If it has very little or no vitamins or minerals (and we are not talking about added 'synthetic' vitamins here), then it promotes inflammation and disease in your body.



7.Motivate yourself with health-promoting books, articles and videos such as those available here and on the Vegsource and Nutrition Facts




---
---
Other articles you might be interested in:

13 Facts about sugar addiction

How to stop your sugar addition

Stress affects diet

Why pregnant women feel sick?

7 Reasons for our unhappiness


...or go back to:

Archives of all articles

Archives (Page 2)

Coping with Stress (HOME PAGE)


---
---
---
---




Or follow me on Twitter and Google+ by clicking on the symbols below:


---
---


Sign up below to receive my free email newsletter with new fresh articles to help you to become healthier and happier.
It's sent about once a month. No spam. No sharing of your email address. Easily unsubscribe at any time.