Why am I jealous?


Jealousy issues in my relationship




by Elia Strange


The more insecure you are, the more you will be jealous.
Jealousy always breeds further rejection and deeper insecurity.
(Abraham Maslow)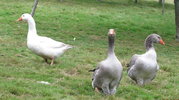 Many relationships break down because one of the partners is jealous.


Are you in a situation where you or your partner feels jealous to one and another?


Do you feel that it's destroying your relationship?


If that's your case, you are not alone. When researchers surveyed University students, they discovered that around 63% of males and 51% of females experience jealousy towards their partner.

The survey might have shown different figures if the participants were in a different age group, but the fact is – many people have these feelings and not sure what to do about it.


What type of jealousy do you usually experience?


Emotional jealousy – is the type where you cannot bear a thought of him/her being close to someone else (but not having an actual act of sex). Whereas sexual jealousy is the type where sex is involved.

Females usually experience more distress with the emotional type of jealousy, but for most males is the sexual type (or the thought of it!) that can drive them crazy.


According to Abraham Maslow, jealousy is 'the fear of love', which 'destroys that very love'. Sometimes we are afraid of the big feelings of love, whilst feeling insecure and vulnerable in the relationship.

The problem is – the more jealousy we experience, the lower our self-esteem might get.
What can you do about it?


1) Jealousy is a fear of loss. Ask yourself 'why are you afraid of losing him/her?' Either you are not sure about his/her feelings, or you are unsure about your own attractiveness, sexuality, etc.


2) Find the reason of your jealousy first.
Then, start loving and respecting yourself. The person you love is with you because he/she wanted to be with you, and not with somebody else.

You are exclusive in your own way and it would be impossible to find someone just like you. Remember that only 'weak' people are jealous! You are intelligent and attractive human being.


3) Jealousy is all about control. Control of the person you love. Love and control cannot exist side by side. Be opened, be loving, and respect your partner and his/her personal space.


---

Other articles you might like:


Why do I 'always' need to be in a relationship (to feel happy)

Why am I lonely

What is social rejection

Why people commit suicide

Why do we fall in love

7 Reasons for our unhappiness


---
---
---
---




Or follow me on Twitter and Google+ by clicking on the symbols below:


---
---


Sign up below to receive my free email newsletter with new fresh articles to help you to become healthier and happier.
It's sent about once a month. No spam. No sharing of your email address. Easily unsubscribe at any time.