Stress symptoms: How do you know if you are stressed?
You know your family is stressed when...Conversations often begin with "Put the gun down, and then we can talk".
(A joke)
by Elia Strange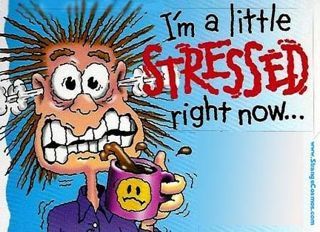 If you are stressed, you might notice that not only is your body responding to it (e.g. feeling tired, exhausted), but your behaviour and your emotions are changing too.


This is a short general guide to show you what "symptoms" we could get when we are stressed. Can you recognise any of these in yourself? If you are, this shows that your health is already suffering from the stress you are under.


If you haven't looked at my other article Signs and Stages of Stress then have a look at it after reading this article. This will give you a better picture of where you are at the moment and how stress is affecting your life and your body.


---
---
Physical symptoms:

Headaches, sweating, palpitations, indigestion, irritable bowel syndrome (IBS), muscular aches and pains, skin irritation, constant minor illnesses.



Emotional symptoms:

Poor concentration, inability to relax, forgetfulness, losing your sense of humor, difficulty in making decisions, increased irritability and mood swings.



Behavioural symptoms:
Making more mistakes, increased clumsiness and accidents, procrastinating, tiredness, nervous habits, obsessional behaviour, interrupting conversations, using more palliatives e.g. tobacco, alcohol, food, drugs.
---
---
Just to remind you, have a look at the Signs and Stages of Stress article if you haven't done it yet. After that you will understand better where you are on the 'stress scale'.
You can also take some psychological and fun tests (Tests and Quizzes) , for example, the Hardiness test which would show you how well you can cope with stress: Hardiness Test

After that, of course, have a look at the recommendations in the How to reduce stress instantly and What to do if you are stressed out articles.



If you would prefer to have a look at other interesting topics as well, then go to the Articles Archives or Archives (Page 2) and choose an article to read or a fun psychological test to do.


...or go back to the Home Page (Coping with Stress)


---
---
---
---




Or follow me on Twitter and Google+ by clicking on the symbols below:


---
---
---


Sign up below to receive my free email newsletter with new fresh articles to help you to become healthier and happier.
It's sent about once a month. No spam. No sharing of your email address. Easily unsubscribe at any time.